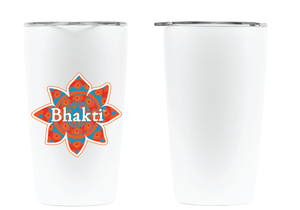 This triple insulated mug holds 12 ounces and will keep your chai latte hot or cold for hours!
PROUD TO BE
How is Bhakti different than other chai?
Bhakti is craft-brewed chai. We use fresh-pressed organic ginger and a fiery blend of spices. Our products are vegan, gluten free and Non-GMO Project Verified and they're free from preservatives.
What does "Bhakti" mean?
Bhakti is Sanskrit for "devotion through social action". We practice living the values of Bhakti through conscientious business practices and through our devotion to social action. 

Have another question? View our Frequently Asked Questions Page.