"If you have yet to try Bhakti, do it. However, beware that one sip will change your chai standards forever."

Mandy Ennis Tulane, Spoon University
"Whip up delicious Indian-style chai at home with Bhakti's new Chai Concentrates."

glutenfreeandmore.com
"Drinking Bhakti Chai has gotten me through the pandemic. It's the happiest part of my day when I sit down and enjoy it."

Susan M.
"It's SO much faster than brewing chai from leaves. Add Elmhurt Cashew milk, and it's the best chai latte EVER!"

Y. Brown, Amazon Review
"I add this to my almond milk, protein mix and make a breakfast smoothie out of it. It's flavorful and delicious!"

Melissa, Amazon Review
"I'm the kind of person who is picky about chai; it has to have a good balance between sweet and spicy with a lot of good flavor all around. Bhakti Chai knocked it out of the park."

Cassie A.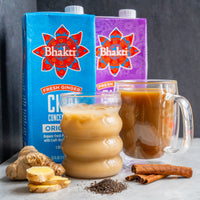 Sustainably Sourced
Bhakti takes its impact in the world very seriously – and that includes how we source our ingredients. We are a Certified B Corp, which means we work hard to meet rigorous standards regarding social and environmental performance, accountability and transparency.
We source organic and fair trade black tea and sugar. We also source organic ginger. All our products are non-GMO verified by the Non-GMO Project.
LEARN OUR STORY
GIVING BACK THROUGH GITA: A platform for positive social change empowering women and girls globally.